7 Types of Local Content That Give Local Publishers an Advantage
in
Community Content Engine
---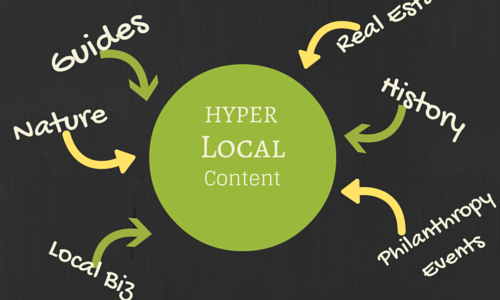 We believe local publishers are a cornerstone of the community and are responsible for picking up stories that have a huge amount of interest in the community, but larger papers may miss. This is the essence of creating a community and fostering connectedness.
We have put together a list of hyper local story ideas and topics that play well online and lead to more traffic and engagement for your site all while bringing together the community. When you are looking for story ideas, try to think of any recent activities that may fall under these topics.
1. Local History
Local history is both light and fun to learn about. Most cities and towns have a great story to tell full of interesting events, characters, and locations. Check in with your local visitors bureau or historic society to get ideas. You can also keep track of anniversaries of important events and retell the tales to keep your community connected to its history for younger generations.
2. Philanthropic Events
Always try to stay on top of the different philanthropic events that are going on locally. It helps to cultivate relationships with those in charge of media relations with local non-profits, community organizations, and other clubs. When they are doing work to help the community, try to spotlight it. As a bonus, all the members in those clubs are potential readers that can help boost your traffic. Galleries of photos from these events are great pieces of content online that may not make it into your print editions.
3. Unique Things To Do in the Area
Family oriented, unique, fun events are interesting to a lot of people and will help drive traffic. Additionally, if your readers go to the events, they will have you to thank. They will keep coming back to check out your events section, building traffic. Try to highlight what makes each event unique. When it is a family oriented event, show how families will have fun there. Be more than just a listing and actually paint the picture of the benefits and fun they will have going.
4. Guides
Guides are great resources that can act as "evergreen" as well as timely content. Think of things like local restaurants/local business guides as well as outdoor or neighborhood guides. During different holiday seasons, think about creating a guide around that holiday like a "Christmas Lights Guide," or "Summer Fun Guide." Guides further act as a community resource and are very shareable on social media outlets.
5. Business Announcements
You can do announcements of local business openings/closings along with relevant details like timeline, location, and hours. You can also feature businesses' that are doing creative things in the community that stand out.
6. Nature Related Stories
These can be stories centered on things like local hikes, local wildlife, or local mountains/rivers/lakes/landscape that sets your community apart. Finding hidden pockets of nature and helping spread the word to the community is a great way to connect with readers and create memorable experiences.
7. Homes Reports
You can read about how to highlight local real estate to gain more traffic here. People in local communities love to know what properties are on the market, even if they are not looking for a home. They are very curious to know what home prices are like and how it relates to their own homes. Highlighting what's on the market is a quick way to keep your readers informed and entertained while connected to the community.
What do you think? Have you had success with this type of content before? What has and hasn't worked for you in the past? Let us know in the comments section below and we will give you our take!
---